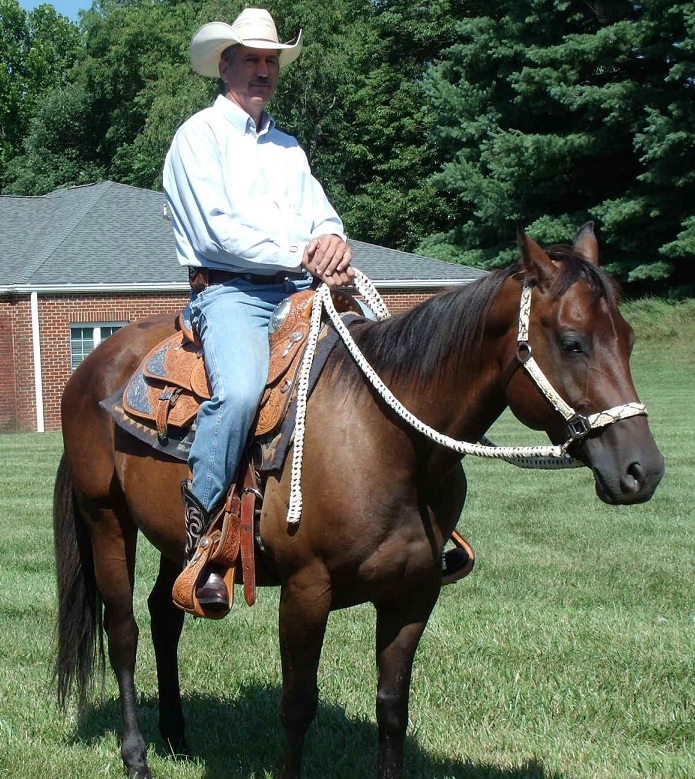 Raymond Bell was born in New York while his mother was, literally, moving to Florida. He grew up in West Palm Beach until the age of 10. That year his mother married Warren Bell. Ray was adopted and the remainder of his life he grew up in central Florida. Ray considers his hometown to be Tavares, Fla.
It was in this small town, on June 7th of 1978 on a Wednesday night at about 8:45 p.m., at the age of 19, that Ray accepted Jesus as his savior. This came at a time when Ray was serving as the youth pastor of an Assembly of God church. "The hardest thing I've ever done in my life was walk the aisle of that church and admit I needed Jesus" Ray says. "Ironically, the only surprised person in the room was me! The whole church had figured out I needed Jesus and they were praying for me!".
Ray next went to Palm Beach Atlantic Bible College. Unfortunately the college reneged on it's promise to honor Ray's previously earned (in high school) college credits that would have made him a Junior. Ray left college and then served in the U.S. Air Force. In 1983 Ray became aware of 4 men who were embezzling money from the government. He reported his findings to his supervisors. When they refused to listen, Ray would engage the help of his Senator. A 6 month investigation found Ray's findings accurate, and much more. To avoid the witness relocation program for him and his family, the Pentagon ordered Ray to be honorably discharged in November of 1983.
Ray is a graduate of Logos Bible Institute with a degree in Bible Theology. Although first being ordained in 1987 by Logos, he was last ordained again a second time, also by Logos (August of 2005), after his first credentials were accidentally destroyed. He has served, or worked, with six protestant denominations in his 50 plus years in ministry.
Ray met his wife Linda in Roanoke in 1989 while on a business trip. Ray was at the time a professional tractor trailer driver. Being recently divorced, and desiring a fresh start, Ray moved to Roanoke. Two years later Ray and Linda were married. Ray's first wife would later die in 2019. Linda then learned to drive a truck and joined Ray in his work. Linda drove with Ray for nine years. They closed their trucking company in 1999 when Ray sensed God leading him to consider a pastoral calling. Between them, Ray and Linda have eight children (3 deceased), four grandchildren, and five great grandchildren.  Linda has lived in Virginia her entire life and is a graduate of Radford University with a BS in elementary education.
In the 35 years he has lived in Roanoke Ray has been on the staff of: 
(sometimes serving in one or more positions simultaneously))
•The Community Outreach Program of the Global Mission Board of the United Methodist Church.
•DePaul Family Services.
•Roanoke Catholic School.
•Church Court Christian Day School.
•Faith Christian School.
•The Truckstop Ministry in Daleville, Va.
•Park Oak Grove Retirement Center (volunteer speaker)
•Cowboy Church of Virginia (founder and Senior Pastor until 2021)
Ray is called upon more and more to serve as a mediator/counselor in church related matters. Many pastors and churches in the state watch what God is doing in CCofVa. and they desire to learn the principles upon which CC operates. Whenever possible Ray fulfills speaking requests both in, and out, of the state. These requests have taken Ray to North Carolina, Wisconsin,Tennessee, Mississippi, and a host of Virginia towns and cities. Other talents God has blessed Ray with is professional Christian clowning (retired); master puppeteer (retired); and horse whisperer/trainer (retired in 2021).
Ray's involvement with horses first began at the age of 10. At a YMCA camp outside Jackson, Ms., where Ray climbed aboard his first horse. In 1985, when he worked for "Sunnybrook Farms" in Florida, Ray transported Thoroughbreds around the country to and from the stables and various tracks. When not driving Ray worked as groom; stable mate; or farm hand. Ray has sought out any opportunity to work with, or ride, horses. Upon moving to Roanoke in 1989 Ray discovered the annual Roanoke Valley Horse Show. Beginning in 2003 Ray and his wife joined with Peggy Campbell (Linda's sister) and sponsored at least two classes of the show for four years. Ray was also called upon to give the invocational prayer at this event those four years on at least two nights of the week long event. In 2006 Ray was trained and operated a carriage hitch for a Bedford, Va. operation for two years. Such appearances included the New Year's Eve "Enchanted Nights" held in Vinton, Va. Ray would become active on trail rides, wagon trains, and various equestrian events he was asked to appear at. For the 2010 and 2011 seasons, the Virginia Presedential Paso Fino Horse Association asked Ray to serve as Ringmaster for their Virginia shows. In 2011 Ray began training as a horse whisperer, a talent he had his entire life but was not aware of how to practice it until learning of the curriculum by author Monty Roberts. Ray and Linda enjoyed ownership, beginning in March 2011 and ending in 2021, of a herd of as many as 23 horses. The horses were used at numerous events throughout the years and along with the Trailblazer Team of CCofVa. made appearances at birthdays, rodeos, fairs, schools, colleges, churches, and anywhere they were asked to come. In March of 2012, while listening to a guest speaker, God called Ray to form a company to provide E.I.A. (a acronym coined and trademarked by Ray) using the horses God had given him and his wife. After months of research and planning, the company O.A.T.S. was begun. In September of 2012 CCofVa. hosted Greg Kersten to come to Virginia and train the staff of O.A.T.S. to begin providing Equine Interactive Activity (E.I.A.) The O.A.T.S. company literally changed the world before closing in 2021.
How did Cowboy Church of Virginia start?
In 2004 Ray and his wife traveled to Las Vegas to attend the PBR World Finals. It was there, through the PBR Outreach ministry that Ray was introduced to the concept of the "Cowboy Church". Upon returning to Roanoke, Ray presented this unique mission concept to several local churches. Typical of churches today, the people were unwilling to become involved with ministry outside their walls. Then an article appeared in the Roanoke Times that outlined what Cowboy Church ministry was doing in North Carolina. Inspired from that article, Ray and his wife set out making contacts around the area to start a Cowboy Church. The livestock arena in Wytheville Va. quickly responded. Ray and his wife met with that staff and in 2005 the first Cowboy Church in Virginia was born. Since that simple start, God has exploded in Virginia and now there are at least 25 cowboy churches in Virginia with many more towns still waiting on their own cowboy church. Before retiring in 2021 Ray would entertained requests for CCofVa. to bring Cowboy Church to other states and to 3 countries around the world.
Pastor Ray and Linda entered full time ministry in June of 2010. As unusual as it might seem, Pastor Ray & Linda were never paid by CCofVa. They served God (then and now) full time literally "by faith". God has raised up, and provides (even to this day), the support needed for them to serve in the ministry. 
If you would desire for pastor Ray to appear and speak, please email him at This email address is being protected from spambots. You need JavaScript enabled to view it.
In Oct. 2021, Rev. Demana Pace would be asked by Pastor Ray to assume the office of Sr. Pastor for the ministry. Pastor Ray continues to pastor and serve as the ministry of CCofVa. requires.
CCofVa. © 2005-2023